SC

1
MIDI FOOT CONTROLLER
The industry benchmark 
Chosen by David Gilmour, The Edge (U2), Richard Kruspe (Rammstein) and many more…
Our famous MIDI Foot Controller, which has become the industry benchmark, is housed in a zinc-plated steel chassis.
Introduced in February 2000, SC1 has been a reliable tool for numerous world-tours ever since.
With its elegant design, innovative features, and reliable performance, SC1 has earned its place in music history.
SC1 was meticulously designed to meet the most rigorous touring demands of professional guitarists everywhere.
When designing the SC1, we strived to create a MIDI Foot Controller that would give you maximum flexibility, reliable performance, intuitive functions, and a sleek ergonomic chassis.
That's why we believe SC1 is the ultimate MIDI Foot Controller.
SC1's high quality, easy-to-read, 12-character, red display makes changing presets in even the toughest stage environments easy.
Finally, by adding a clear LED-lens on every single LED, we have improved the visibility from any angle, perfecting your live performance with an SC1 at your feet.
"I wanted an intuitive and logically structured controller that would do everything I'd ever need on the stage – and it should be built like a tank to handle years and years of touring."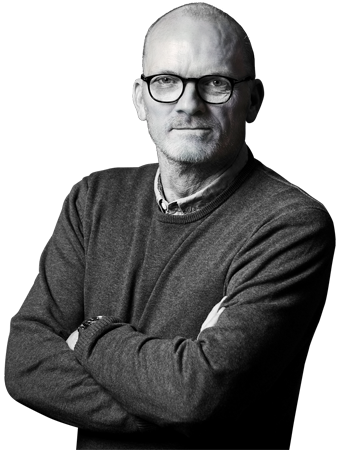 Essentials 
25 Banks with 5 presets each (8 presets per bank with the EX1 extension)

99 Songs / 5 Set lists of up to 50 songs each

10 direct access switches – expandable to 25 switches with the EX1 and EX2 extensions

High-grade Carling switches

Large easy-to-read, 12-character, red display

Master/Slave function

Zinc-plated steel chassis

All Caveman products come with a 10 Year Warranty 

Technical Specifications
Dimensions (metric) : 465 x 310 x 40/90 mm (WxDxH) 

Dimensions (imperial) : 18″ x 12″ x 1.5″/3.5″  (WxDxH) 

Weight: 5.5 kg / 12 lbs.

Power requirements: 9VAC or 12VDC / 300mA (+100mA per extension)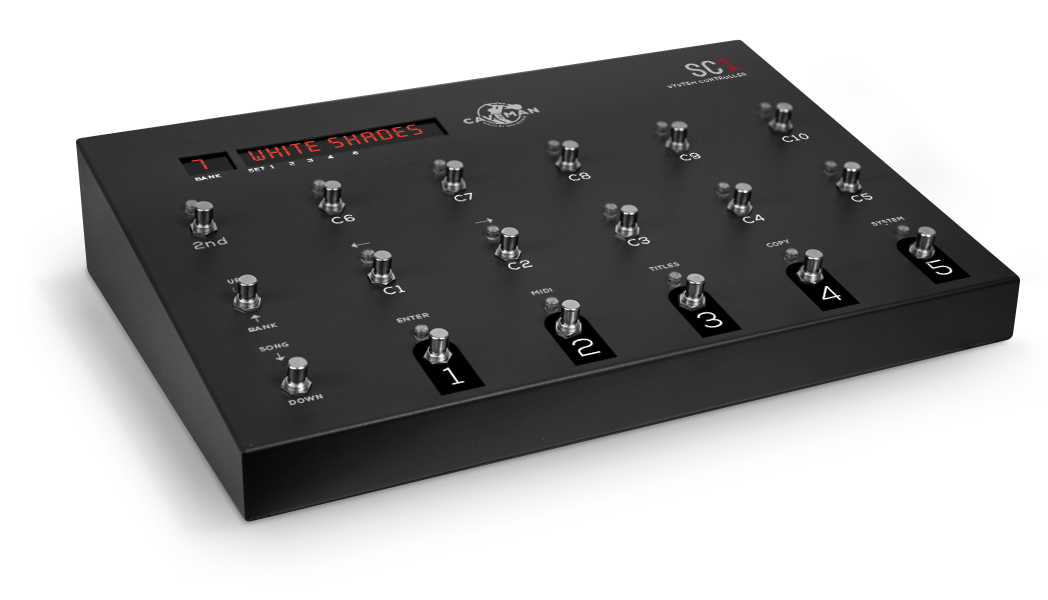 Rear side – left to right:
5-pin XLR to connect EX1/EX2 extensions

2 ports for expression pedals, etc.

Fuse

Power inlet – 9VAC or 12VDC

5-pin MIDI IN

7-pin MIDI OUT

6-pin XLR for connection with e.g. Rack Interface (All MIDI communication and power is handled via this connection)

6-pin XLR connection for combining two SC1 units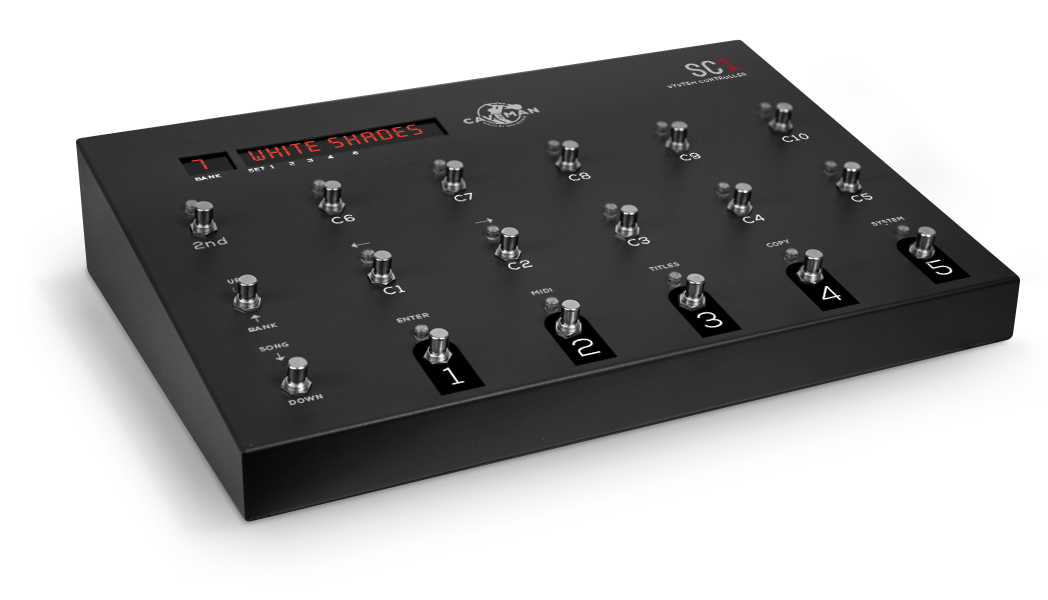 SC1
MIDI FOOT CONTROLLER
The industry benchmark 
Additional information
| | |
| --- | --- |
| Weight | 6 kg |
| Delivery time | Currently not available |