ACC

1
THE ULTIMATE
ACOUSTIC
PREAMP
Keep your acoustic guitar sounding like an acoustic guitar through a PA System
ACC1 has one job: To maintain every nuance of your acoustic guitar sound, making it spring to life even when amplified through a PA system – whether you are strumming, fingerpicking or soloing.
Whether you use piezo pickups or built-in or external microphones, this unit will make your guitar sound authentic and blend in perfectly with the band. The built-in studio-quality Compressor makes playing feel effortless and smooth without squashing your sound. 
ACC1 is a scaled-down version of the Acoustic Guitar Unit we developed for Scorpions' MTV Unplugged Tour in 2014. We took all of the essential features from the 6U 19" monster we built and managed to pack them into a compact 2U 19" rack unit.

It might look a bit complicated, but it is actually very intuitive and easy to operate. In short, this is one killer unit for all of you acoustic players out there.
Proud ACC1-users include amazing players like Matthias Jabs (Scorpions), Rudolf Schenker (Scorpions), Michael Nord Andersson (Roxette), Peter Maffay, Pascal Kravetz (Peter Maffay, Udo Lindenberg) and many more.

"Making an acoustic guitar sound authentic through a PA System may sound easy – it is not!
Playing an acoustic guitar evenly and effortlessly sounds easy – it is not!
It took me years to perfect the sound and the playing aspects… This is one unit I am very proud of!"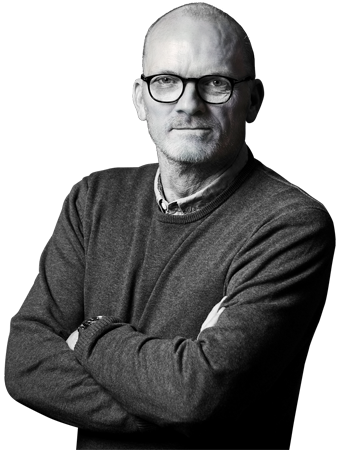 How we record 
Guitar -> Caveman Audio stomp -> Caveman Audio X2/X3 Amplifier -> Caveman Audio 412 cab.

We use two microphones in front of the cabinet – a Shure SM57 and a Royer R-121.
The microphone signals are sent to the Caveman Audio Dual Mic Preamp and the outputs then run straight into Pro Tools.
The sound you hear has NOT been processed in any way – no additional compression or EQ.
What you hear is simply the raw recorded signal. We add a little reverb and occasionally a bit of stereo delay – but that's it!
The bass is recorded with a PJ bass guitar straight into the Caveman Audio BAS1 preamp – and from there directly into Pro Tools.
All Acoustic Guitars are recorded with a Martin D28, passing the signal from the onboard piezo pickup straight into the Caveman Audio ACC1 preamp and then directly into Pro Tools.
The drums are Superior Drummer 3 grooves.
Specifications
Dimensions (metric) : 19" x 2U x 350 mm (WxHxD)

Dimensions (imperial) : 19" x 2U x 13 3/4″ (WxHxD)

Weight: 5 kg / 11 lbs.

Power requirements: 100-240VAC 50/60Hz

Transformer-balanced Radio/Wireless Input

Transformer-balanced DI

Transformer-balanced Amp Output

Transformer-balanced Tuner Output

Remote Foot Switch for Boost ON/OFF, Attack 1/ Attack 2, Mute

Unique RFI protection 

All Caveman Audio products come with a 10 Year Warranty

All Caveman Audio products come in road-ready, zinc-plated steel enclosures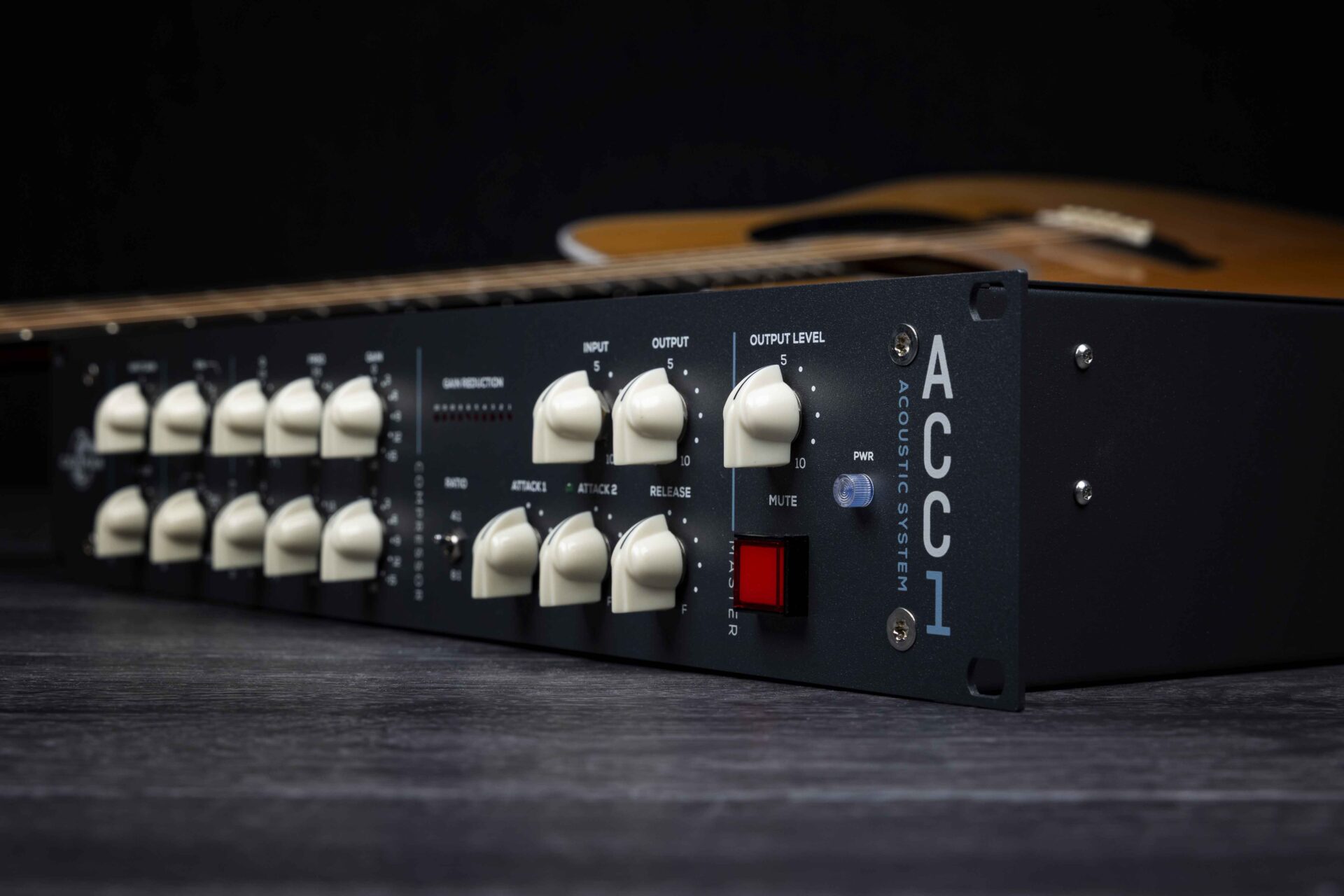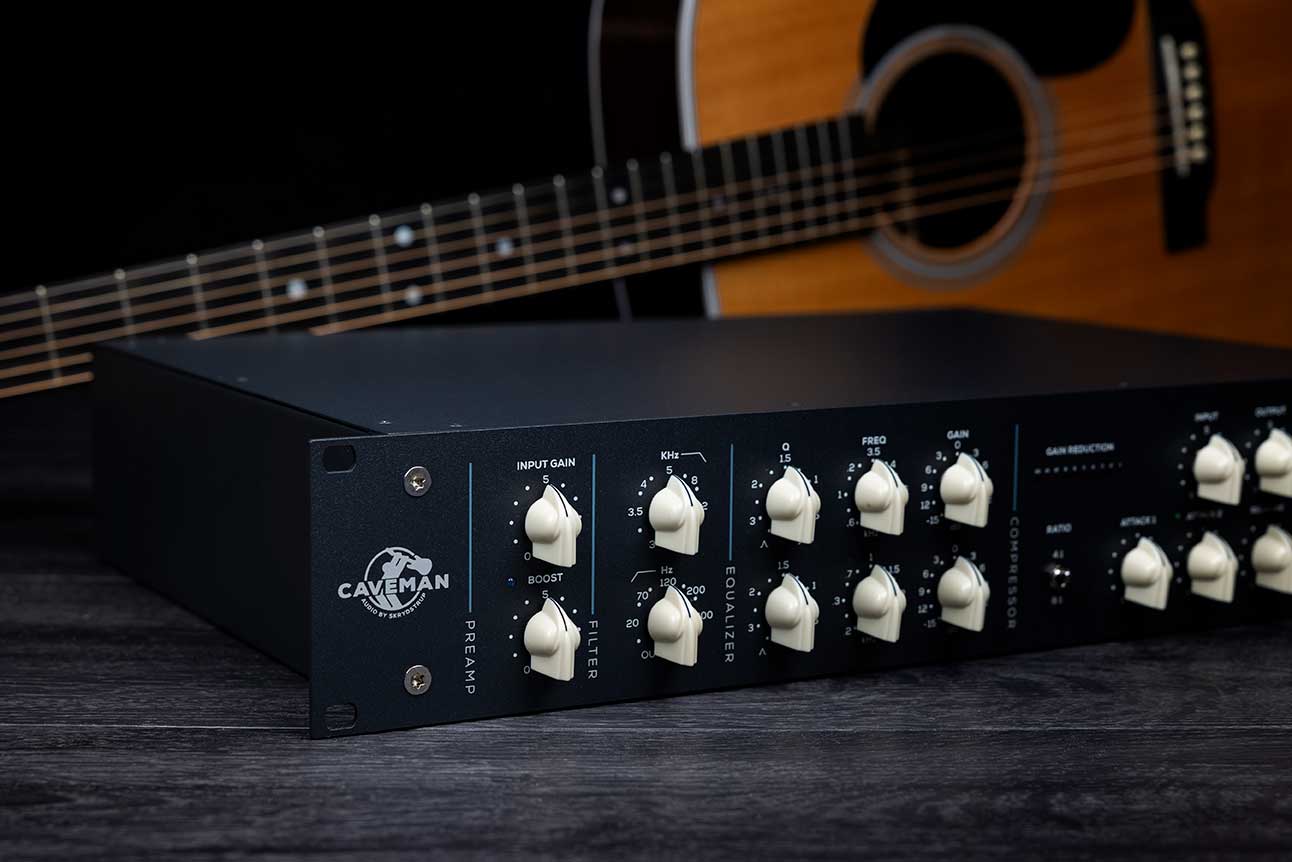 Features
Neutrik gold-plated lockable ¼" cable input

Transformer-balanced Neutrik gold-plated XLR Radio/Wireless input

Transformer-balanced Neutrik gold-plated XLR DI output

Transformer-balanced Neutrik gold-plated ¼" TRS output for an external amplifier 

Adjustable Input Gain

Switchable Boost function with Level Control

Studio Quality Hi- and LoPass filters

Studio Quality 2-band Parametric Equalizer with bandwidth control

Studio Quality Compressor with dual switchable Attack controls

Overall Master Volume

Mute function

Tuner Output

Worldwide voltage compatibility


ACC1

THE ULTIMATE
ACOUSTIC PREAMP
Additional information
| | |
| --- | --- |
| Weight | 8 kg |
| Delivery time | Currently not available |