Morten Jay is a Danish bass player who has played with top international acts such as Robben Ford, Zucchero, Michael Ruff, Joan Osborne and many more.
Morten has been touring for more than 30 years – and nationally, he has played with most of the major artists – including bands like Michael Learns To Rock, Big Fat Snake and Sanne Salomonsen … to name a few.
BAS1 Bass Preamp – The life changer
About eight years ago, Morten met Steen Skrydstrup, founder of Caveman Audio, and that was a game-changer for Morten.
Steen introduced Morten to his audio-system philosophy, and a journey towards being in control of his sound began.
The first project was changing the built-in preamp in his Sandberg bass guitar.
Steen developed an active circuitry that gave his bass more punch and tone without the noise.
Soon after, Morten was introduced to the first version of the BAS1 Bass Preamp (when it was called Skrydstrup BGS2) and the Skrydstrup Bass Growler (Overdrive/distortion unit).
Morten was blown away when he heard his bass sound in the PA and monitors!
"With the Caveman Audio Bass Preamps, you get a state of the art bass preamp – and it's all analogue. It makes my bass sit in the mix, with all the definition and dynamics I could wish for. Suddenly every note stands out clearly. The top frequencies don't interfere with the guitars or the vocals – and the low frequencies blend in perfectly with the kick drum."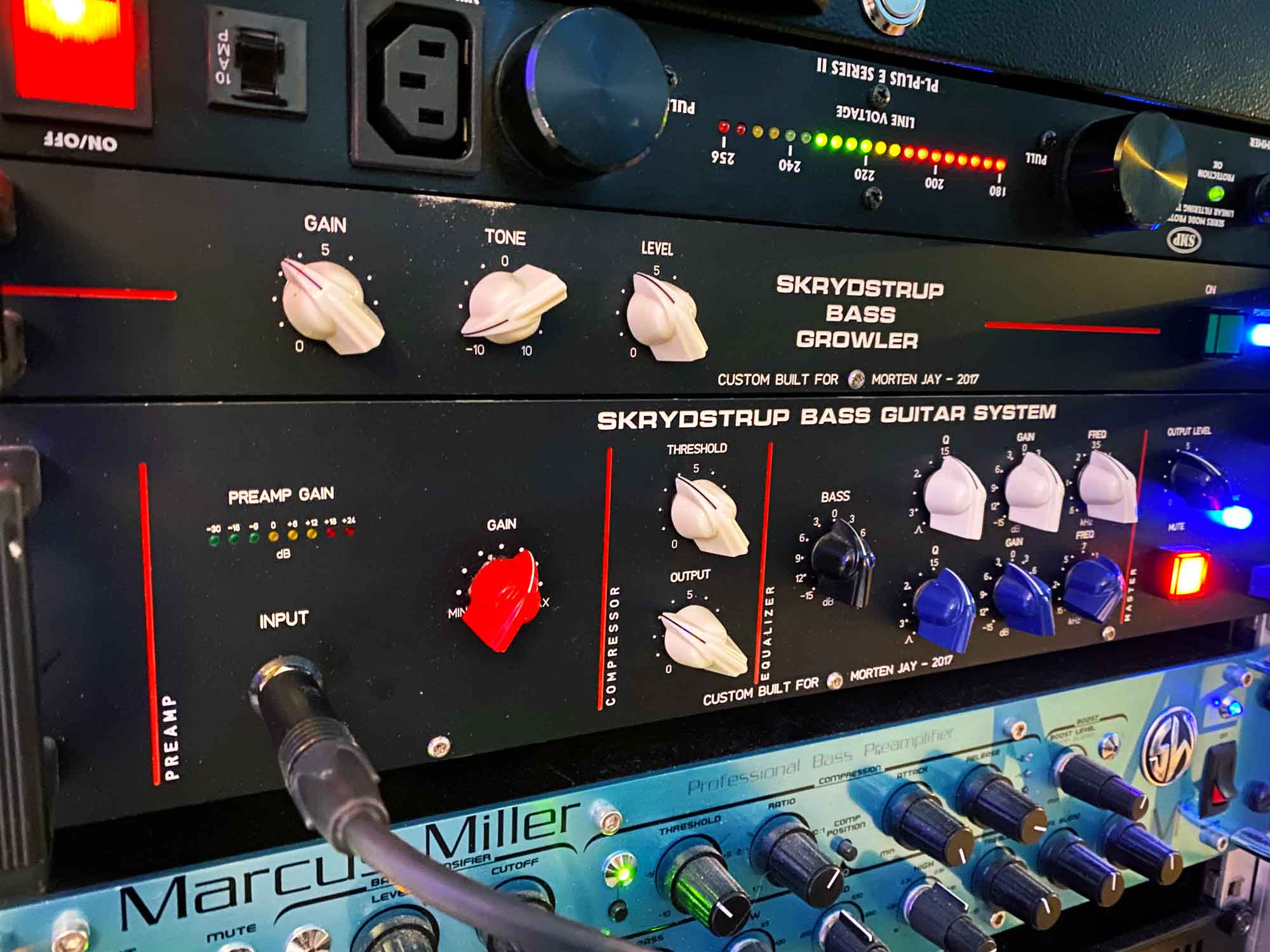 "The BAS1 Bass Preamp is a state of the art analogue bass preamp.
It makes my bass sit in the mix, with tons of definition and dynamics."
-Morten Jay
Morten's musical journey
Morten has been touring in Denmark with so many great artists. Here's a few of them:
Sanne Salomonsen (1999-2006), Nikolaj Steen, The X-Factor Orchestra, Julie Berthelsen, Kira Skov, Det Brune Punktum, MOMB, Poul Halberg, Peter AG (DK), Caroline Henderson, Pernille Rosendal, Søs Fenger, Al/Kuku Agami, Jimmy Jørgensen, Sten Jørgensen, Ole Kibsgaard, Aske Jacoby, Per Chr.Frost, Ida Corr, Daniel, Karen Busch, Kristine Blond, Zididada, Østkyst Hustlers and many more.
Countless musicals are also on his CV during the last 15 years – including Dirty Dancing, Hair – and many others – and he has extensive TV work experience (Danish television – live shows).
In 2017, Morten toured with Joan Osborne, and many of the concerts were recorded live.
You can hear some of the songs from the tour in live versions on the album "Songs For Dylan".
Morten's basses
Morten's main basses are the Sandberg California JJ Hardcore Aged Masterpiece 5-string bass and the Rahbek MJ 5 Custom Build bass.
Morten uses Elixir Strings on his basses.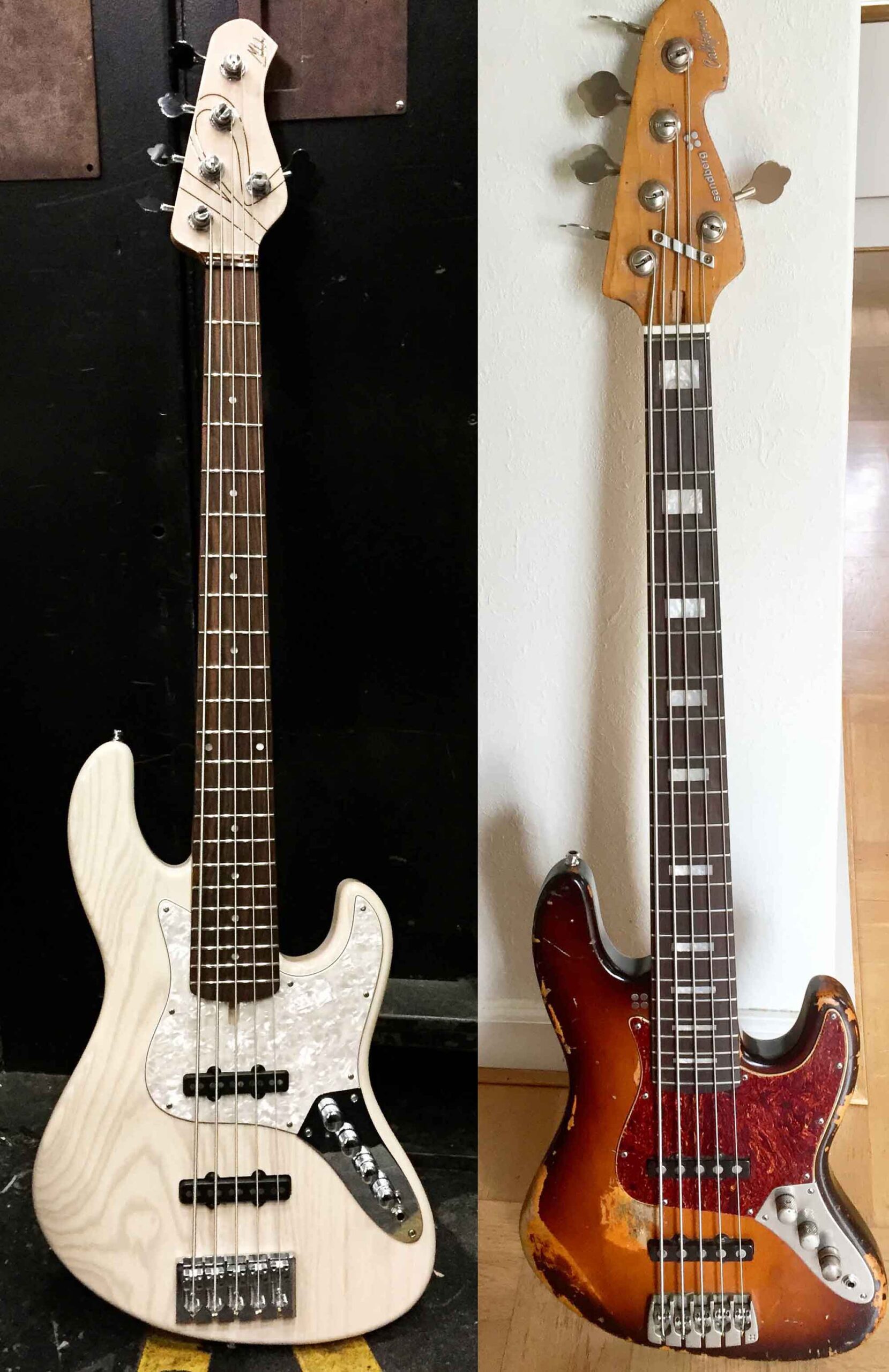 Amplifier & Cabinet
Morten uses the Aguilar DB 750 amp with the Aguilar DB 810 bass cabinet for large venues, a TEC AMP Puma 900 with a Bergantino CN212 cabinet for medium venues and finally, the impeccable AER Bass Two combo for smaller venues.